An e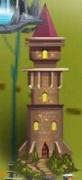 arth tower is a fourth level dungeon that contains 30 levels with mini-bosses on floors 10 and 20 and a Tyrant on floor 30. Chests can be found on floors 5, 10, 15, 20, 25, 28, 29,and 30.
Floor 10 - Elite Electric Zombie (green)
Floor 20 - Elite Reptilian Beast (dark blue)
Floor 30 - Tyrant
Harpy red, yellow, green, black
Reptilian Beast yellow, red, dark blue
Goblin blue, yellow?, purple
Electric Zombie red, yellow, green, light blue?
Automatron yellow, blue, red, purple, pink
Iron Golem gold, blue, red, black
Triffid red, yellow, blue
Earth Elemental red, green?, purple, dark grey?
Djinni orange, blue, pink, green, dark blue?
Ad blocker interference detected!
Wikia is a free-to-use site that makes money from advertising. We have a modified experience for viewers using ad blockers

Wikia is not accessible if you've made further modifications. Remove the custom ad blocker rule(s) and the page will load as expected.