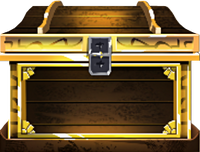 There are a variety of chests that can be encountered in the game.
Chests are found on certain floors within dungeons, usually after beating a tougher-than-normal monster or group of monsters. These chests award XP, Gold and a handful of other items such as gems, armor, or weapons.
Chests can also be earned by completing quests. Quests have a set reward which can be seen on the quest information page.
Finally, there are 3 different kinds of chests that can be encountered within. Two chests require MP to open and can reward gold and/or XP.
The more elaborate chests require a key to open and are typically found in more populated areas. These chests always contain gold and can also contain gems and/or equipment, much like a chest you would open in a dungeon.
Mana chests give a small amount of XP and can on rare occasion also contain gems, weapons, or armor.
Ornate chests, which require keys to open, can only be opened by one person at a time. After you open a chest, there will be a count down of 1 min before the chest will replenish. If another player raids the chest before you, you will be notified and your key will not be used.
Ad blocker interference detected!
Wikia is a free-to-use site that makes money from advertising. We have a modified experience for viewers using ad blockers

Wikia is not accessible if you've made further modifications. Remove the custom ad blocker rule(s) and the page will load as expected.